Clone House through the ages
A tumultuous history
Clone House was originally built by the O'Byrne family in the 1650's. Back then it was the Manor House on a large estate stretching across Moneyteigue, Clone and Coolahullen. The house's history is as grand and interesting as its demeanor. Clone House provided refuge to the famous Billy Byrne of Ballymanus, was burnt down in the 1798 Rebellion, restored around 1805 and nowadays functions as a beautiful guesthouse.
The will of Charles Byrne
The first public record of Clone House appears on the will of Charles Byrne of Clone, who wrote it on the 18th of April 1728 and died soon after. Charles' will stated that the proceeds of his livestock and corn were to be divided equally between his wife Ellinor and his six children. 'Share and share alike.' The title and interest to the farms of Clone and Tomenerin were given to his sons John and William.
The disposal of Clone House
A bequest surely fraught with the possibility of domestic tensions was Charles's disposal of the family home.
The main bequest was his "right title and interest in and to the farms of Clone and Tomenerin and to the lease made to me by Thos. Bunbury Esq." to his sons John and William along with "the residue of all cash, notes, bills, bonds and debts due to him." John was named the principal heir. Perhaps Charles knew that William had not long to live – his name doesn't feature on any surviving documents of the estate.
Charles also left
His wife – 'the large room upstairs with the furniture thereof'
His sons John and William – 'the parlor, blew room and the furniture thereof equally between them, together with all my plate except my plate spurs which I leave to my said son John as also my new boots, my watch, black britches and my new wigg' and to William also my new hat, saddle and bridle'
His widowed sister Ann Byrne – '£4 along with 'lodging and dyett in the dwelling house at Clone until my son John shall be of age'
His daughter Catherine – '£10 for the purpose of being put out to a trade with another £10 to be paid by the family when her apprenticeship had been served'
John Byrne loses Clone House
However, John Byrne – who came of age in 1735 – never made a succes of his inheritance. Documents prove that John assigned the lease of his house to his cousin Garrett Byrne of Ballymanus for a mere 100 pounds. Interestingly, at this time John Byrne's domicile is named Tomcoyle rather than Clone, which means he must have lost Clone before. It is now Jacob Coates who owns both title and interest to Clone House.
Less than two decades later it is Charles Coates, Jacob's kinsman, who acquired the lease of the estate formerly held by Charles Byrne. The deed, dated 29 May 1754, refers to 'the lands of Cloan and Timonering now in the possession of said Charles Coates and his undertenants'.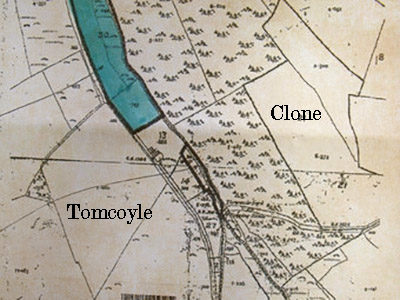 The 1798 rebellion
Coates found himself a man of controversy during the 1798 rebellion, running a mixed marriage household with him being English and his wife Irish.
His neighbour at the time was the handsome and charming Billy Byrne of Ballymanus, a powerfully built man with a zest for life, whom Charles favoured as a suitor for his daughter.
Billy Byrne of Ballymanus
Billy Byrne, born in 1775, was the youngest son of Garrett Byrne of Ballymanus of Co. Wicklow. The Byrnes of Ballymanus were the only Catholic family to maintain a social position in Wicklow at the time and "Old Garrett" was one of the last to retain his lands in the country. He was well respected by many of the protestant gentry.
Billy Byrne enrolled in the Wicklow Yeomanry, the cavalry component of the British Volunteer Corps, but refused to take the oath that he never was and never would be an United Irishman. He was expelled from the Cavalry and joined the rebel forces instead. Billy, liked by many and respected by more, quickly came to command the famed 'Ballymanus Corps' of Wicklowmen. He would ride into camps of battle shouting 'Up Ballymanus', thereby setting a precedent and rousing morale.
The burning of Clone House
Chased by his enemies, Charles Coates found Billy Byrne on the doorstep of Clone House one night, seeking shelter. Charles provided Billy, his old neighbour, refuge. Despite Charles' kind act, Clone House was burned down by Billy Byrne himself soon after. However kind of heart Charles Coates may have been, Clone House was yet another symbol of English rule. But perhaps it was thanks to Charles' kindness that Clone House wasn't reduced to a complete pile of ashes, unlike the majority of English houses in the area. Some of the original stonework still stands today.
Coates family tradition tells that Charles's elderly wife refused to leave her bed, whereupon Billy Byrne had his men carry her down carefully in her bed and deposited on the lawn, from where she watched the house burn.
Defeat at Vinegar Hill
Billy Byrne went on to lead the Ballymanus division of the United Irishmen in battles in Arklow and Vinegar Hill in June of 1798. After his defeat at Vinegar Hill he went in hiding and was finally caught at Francis Street in Dublin on March 14th, 1799. He was sent to the Wicklow Goal to await his trial.
The sham trial of Billy Byrne
The sham trial of Billy Byrne was named one of the greatest acts of injustice by the British Establishment against an Irishman.
Old enemies of the Byrne family wanted to make an example of him and thus they made sure he was found guilty of being a rebel leader and that he was sentenced to death.
Evidence was manufactured and witnesses were paid to swear against Billy, including one of the servants of the Byrne household. He was hanged on Gallows Hill near Wicklow Town on the 21st September, 1799.
Breakup of the Clone Estate
In March 1802, Charles Coates advertised 500 acres of the Clone property for rent. He was one of the many loyalist farmers suffering from loss of livestock to marauding rebel bands and thieves.
A deed dated 22nd July 1819 states that Clone was passed on from Charles Coates to Benjamin Disraell. The latter then divided the property unto three others: Nathan Calliwell, Peter Chaigneaw and Hugh Cuming.
Soon after Henry Patten bought the title to the entire Clone estate for the sum of £8000?
The Patten family
From then on up until the early 20th century, Clone was owned by the Patten family – local landlords. The Pattens originally came from England and lived in Clone for many generations with many farmers and workers. Over a period of time the Clone Estate was broken up and Pattens were left with an estate of about 500 acres around the residence.
Robert Patten was listed as the tenant occupying a property in Clone in the Griffith's Valuation (a boundary and land survey) published in 1854. His landlord was the Earl of Meath. The property at this time had a net annual value of 369£.
Another Patten mention is made in the census of Ireland of 1911, where Fletcher Moon Patten is named as the single "Head of Family" of a house in Clone. At that time, it was stated, only one private dwelling was inhabited on the propery while 17 outsteadings – offices and farms – existed. A coach house, two cow houses, a piggery and a workshop, amongst others.
The renovation of Clone House
In 1929 Jim Hill bought Clone House and Estate. The Hill family ran a guesthouse and farmed the land. Landscaped gardens and a tennis court were created around the house. People recall the local hunt gathering in front of the house making for a beautiful picture.
Michael Smith, a Dublin barrister, became owner of Clone House on the 29th November 1996. The following years he conducted a major renovation of the house, done with meticulous attention to heritage house details. That first November Michael Smith applied for permission to change Clone House into a guesthouse, incorporating 12 bedrooms. However, because Clone House was deemed "derelict" the change of use was not granted until the 11th of May 2003.
Clone House since 2017
Jeff and Svetlana re-opened Clone House in 2017 after spending a number of years living in Italy, London and Australia. Renovations have gone on inside and outside of the house and in gardens since purchased in 2000 after extensive structural renovation was conducted by the previous owner.
House was set up in 2017 as a small events centre and heritage guest house with superbly catered private meals offered for larger groups with advance bookings.
Svetlana provided her extensive experience in working with a holiday house business in Rovinj, Croatia and certification in international cooking to run Clone House operations, catering, hostessing, guest relations. Jeff meanwhile is a Harvard MBA and IT/Digital executive with restaurant, gardening, planning and digital experience working to develop Clone House grounds, conduct continued house renovations as well as handling overall business administration and marketing.
Today Jeff and Svetlana and their three lovely Airedale Terriers give their guests a warm and pet friendly welcome into their tranquil and beautiful heritage countryside retreat.