In the Heart of Wicklow
Clone House
Clone House, first built around 1650, is surrounded by five acres of private land and gardens.
Based in the heart of vibrant and beautiful County Wicklow, just an hour south of Dublin, Clone House offers a unique holiday experience and quality accommodation for up to 26 guests.
We cater for events such as family reunions, corporate events, hens & stags and small weddings.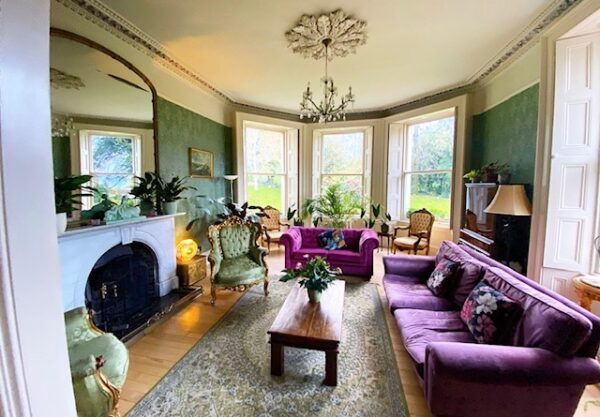 We are specialists in
Small Events
We are the perfect venue for small birthdays, hen and stag parties, intimate weddings, corporate retreats…
We'll take care of it all!
Sit back and relax knowing all the details of your small event are catered for.
From fine dining banquets to festive parties fueled with drinks and canapés, we've got you covered!
Get your quote now by email ([email protected]) and we'll design the perfect party atmosphere for you!
Unique and memorable
The House
Clone House provides an unique and memorable experience to every one of her guests, offering exclusivity and elegance in both detail and service. Special features of Clone House include our Victorian sitting room, exquisite dining service for groups, our beautiful gardens and – last but not least – an enthralling, rich history, worthy an heritage house of this stature.
AVAILABLE ROOMS
Our Accommodation

Splendid hosts, beautiful country house and garden; perfect for a quiet retreat. You can rent the whole house: ideal for a family gathering or a group outing. In a very quiet setting which is still accessible.
I had the most lovely stay at Clone Country House. The property is just gorgeous and incredibly pretty and peaceful. Jeff was exceptionally welcoming and accommodating with nothing too much trouble. From a beautiful garden to the cosiest bed – if you are thinking of staying here then you definitely should!
We stayed for a wedding that was nearby in Ballybeg house. The room was very comfortable and clean. The host was extremely friendly and accommodating. The Irish breakfast was of a good quality in the morning. They were also very helpful and dropped us back to Ballybeg to get our car in the morning. I would have no hesitation in recommending Clone House to a friend.
We held a hen party in Clone House this weekend, I could not recommend it as a venue more. Jeff and his wonderful wife made us all feel so welcome. Jeff was fantastic in replying to any of our questions and queries in the lead up to the big day and helped us out on the morning. The venue itself was fantastic, everyone was blown away by the stunning location, bedrooms and beautifully decorated space for activities. Thank you so much Clone house, we will be back!
If you want some country charm this is your place, slightly out of town in a beautiful quiet setting, this house oozes charm, great friendly check in as we got there late around 9.30 pm, rooms are just huge! Very quiet and peaceful night, absolutely fantastic full breakfast in the morning, this place is fantastic value for money, wished we could of stayed another night!
My sister and I had three amazing nights here. We truly had a relaxing and enjoyable experience. The grounds are exquisite and the breakfast was only fab!
We can't wait for our next stay xx
We had a wonderful stay. The place is idyllic and breakfast is rich and very good and fresh!
The house is full of charm and older objects, one of them and the garden is sublime and so well maintained!
Svetlana is in little care for each other, she's really a host and an exceptional woman. As soon as we return to Ireland we will be will by the clone house �

1000 thanks. Précilia & Marie-Anne

"Amazing place! I cannot fault it in any way. Beautiful property and beautiful gardens. Staff are lovely and extremely helpful. Room was huge and beds were very comfortable. I would highly recommend Clone Country House to anyone."
NATASJA – UNITED KINGDOM
"The wonderful charm of the 350 year old house. The warm greeting from the owners and how well we were looked after for our weekend. A very comfortable bed. The astonishing value for money."
LIAM – IRELAND